Privacy Policy
Customer Privacy is Important to Us
We care for your health and your privacy, too. We decided to put up this notice to explain our information management practices and their uses. The information collected from customers are strictly employed for completing orders and we give ultimate choices to the customers to decide how much information they wish to share with us.
Information that We Collect
Here are types of information that we collect from a customer:
Personal information
Name
Address - Billing & Shipping
Email Address
Phone Number
Payment Information
Credit/Debit Card Information
Applying Information that We Collect
We ensure that the customer's information is only used for fulfilling a product /service requests, for processing monetary transactions, personalizing your web experience, keeping customer updated about the news, products and service offered by us, etc. The personal information is never shared with any third party who is not part of our business process. Also, the information is shared with any third party or our affiliates when it becomes necessary as part of order processing.
*An email order acknowledgement is sent to customers (on specified email address), once they are done ordering. Their order number, status and amount are specified in this email order acknowledgement for their further reference.
Data Processing
We strictly follow this privacy policy while processing or handling the data supplied by a customer. At Custompedometer.com, our order processing team takes care to prevent any unauthorized attempt to tamper personal data. Personal information is only shared to the third party during merger & acquisitions, shipping, as a part of some government regulation and in adherence to some judicial procedures.
Security Measures
We know respect to privacy is the keyword to success in a relationship and it can never withstand the test of time if either of the parties breaches it. We are very serious about guarding personal information that we have collected and lies within our control from unauthorized access, unauthorized destruction or accidental loss and improper use and disclosure. However, we cannot guarantee 100% data protection due to the nature of the internet. Custompedometer.com is SSL protected which encrypts the sensitive information by converting it into undecipherable language.
Access and Changes to your Personal Information
We provide unique login accounts to all our customers. They can use it for ordering and checking the status of their order. Customers can login to their accounts and change their personal information. It is highly requested that customers should take all necessary measures to protect their personal data. Customers should log out of the session once they have finished ordering.
If customers have any difficulty to login to the website or have forgotten their login details then they can contact us at [email protected].
Change of Policy
We request all our existing customers and wannabe customers to visit this page and check the changes made to this privacy policy before they make up their mind to buy from us again or for the first time.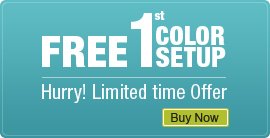 Shop By Color
Our Clients